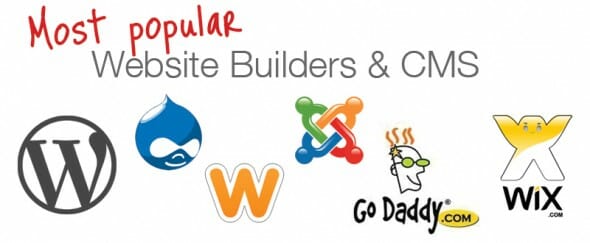 There are a multitude of choices available out there when you're looking for a website builder. It doesn't matter if you're looking for free or paid solutions, there will always be one that will match your preference and meet your particular needs. However, your HTML ability and lever of knowledge will be a deciding factor when it comes to choosing what solution to go with. Those of you just venturing into websites will want a simple solution that will enable you to build a great website with little to no knowledge of coding or programming.
Most popular Website Builders:
WordPress.com – this initially became popular as a blogging tool for people who wanted to talk about their interests and hobbies online. However, it has evolved to be one of the most trusted website builders that now powers 18.9% of all the websites online. Today, it is also widely used for non-blogging websites, which include e-commerce sites. WordPress offers several benefits, which is the main reason why it attracts thousands of users from around the globe. These include 100% customizable design, built-in blog, access to different plug-ins, multiple users feature, ease of use, and no FTP software and HTML editing requirements. Note: WordPress also offers WordPress.org, a self-hosted version of WordPress which is best for those who are able to use FTP programs.
Weebly – Just like WordPress, Weebly is one of the most user-friendly website builders in the market. This allows you to easily drag and drop content which empowers you to build your own website painlessly and quickly. Weebly's elements include all the basics of website building which include pictures, videos, maps, paragraphs, contact forms, and buttons.
Wix – Wix was initially dubbed as one of the best Flash website builders. However, Flash has become a no-no these days because it is not search engine-friendly, it doesn't provide great user experience, and it doesn't perform well on mobile. Because of this, Wix has been redefined and its builder was rewritten to allow the creation of JavaScript and HTML5 websites. Main features include unlimited pages or up to 500 MB storage space, animation, text as title or paragraph, video and music player, built-in blogs, built-in social buttons, and apps for easy adding forum, meeting scheduler, maps, chat, HTML code, and more.
GoDaddy. There are several web hosting companies that offer tools to help you create your own website that they will then host. One of the highly recommended is GoDaddy's website builder – it features drag and drop functionality making it easy to use even for those people who do not have in-depth technical skills. It boasts multimedia features, which include image galleries, video, audio, maps, and blogging capabilities. It also allows you to integrate third-party shopping car, offers 50GB of storage, and 1,000 GB of bandwidth to host your site.
Content Management Systems:
A Content Management System or more popularly known as a CMS is a tool that you can freely use for website building. CMS software is designed to help you to easily track and manage all your content. The best part of using a CMS is that limited technical knowledge is required as everything about your content is managed by the system.
The only real knowledge required to get a self-hosted CMS website up and running is the ability to use an FTP program to upload and install the CMS – even without this knowledge, its easily learned by watching a short YouTube video. Simply search the CMS you're using and you're bound to find the installation instructions you require (eg "how to install WordPress via FTP").
A CMS makes the process of building a website a lot easier, especially if you chose to use a pre-made template – no more struggling with CSS and HTML coding for webpages.
recommended CMS:
WordPress.org is a free open source content management system that is used to create not just blogs but fully-fledged websites as well. Using this CMS will give you access to thousands of plugins and themes that you can use to transform your website into something that is extremely stunning. WordPress.org is the leading CMS on the market. (See 'Why WordPress is still the best CMS')
Drupal is an open-source CMS framework written in PHP that you can use to build any type of website for personal and business use without in-depth technical knowledge. This will give you access to thousands of themes and modules. You can also use this to build an advanced database management website.
Joomla is another highly recommended content management system used to build not just websites but powerful applications as well. It is also an open-source framework that is very easy to use and is available freely for everyone. It is very popular because of its extensibility.
Creating websites these days is relatively easy with the availability of different website builders. Most allow you to build a website for free. However, if you require a cutting-edge website that will properly represent your business online, a website that will help you stand out from the crowd, considering having a custom website built by a professional website designer.
Ignition Media has created and designed thousands of websites for both local and international clients. 100% satisfaction is guaranteed. For inquiries or for obligation-free quotes, please email me at [email protected] or call (07) 55 687 515.